Protest the Murderous Mesa PD Tomorrow!
Mesa: Remember Mario Madrigal Jr., Executed by Mesa Police Officers! Demand Justice this Saturday!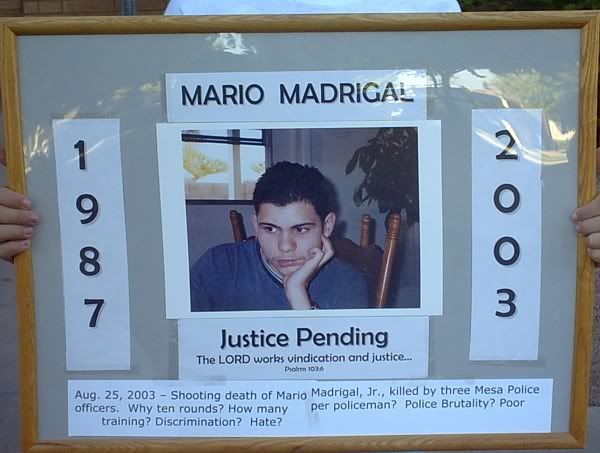 Four years have passed since one of the most notorious police killings in the valley's history, Mario Madrigal Jr. was coldly executed by three Mesa cops in August of 2003 at his own home, in front of his family. He was fifteen, unarmed, and passive in the police presence, but these Mesa cops still saw it fit to shoot the teenager eleven times.
"He was already on the floor [when an officer] emptied his gun," said Marta Madrigal, his mother. "We called the police for help, and they shot him."
The Madrigals had called the Mesa cops for help with Mario Jr. because he was having emotional problems. They expected the officers to help him get to a crisis center and had no idea the officers would kill him. The officers (Orlando Dean, Mark Beckett, and Richard Henry) claimed Mario lunged at them with a knife, and that's why they shot him eleven times. The Madrigals couldn't believe that their son, who was not threatening or attacking any of the officers, was tasered and then shot to death for no reason.
"We want justice for Mario," said Marta Madrigal. "Justice means I want those killers behind bars". "They killed him in front of my eyes," said Mario Madrigal Sr. "If I didn't move my [son Bryant], they'd have killed him, too."
Church groups, community organizations from across the valley, as well as families and individuals who have been brutalized or had a relative or friend killed by police, came to the defense of the Madrigals after a vicious media assault on the family led by law enforcement. Over the years the Madrigal family and community organizations such as Phoenix Copwatch, Women in Black against Violence, and the Phoenix Anarchist Coalition have held demonstrations, candle light vigils, and know your rights forums in response to the police violence in Mesa, specifically in regards to the murder of Mario Madrigal Jr. The struggle for justice continues.
In the spirit of justice and freedom for all, and to remember Mario Madrigal Jr., a demonstration has been called to mark the fourth anniversary of his death. The killer cops, not yet held accountable for their aggression, still roam the streets of Mesa after four years have passed, protected by police unions, the Mesa police department, and their own shameful lies about his execution.
Join us to say:
"NO MORE!"
The Madrigal family, and their allies, will be holding a demonstration Saturday, August 25 at the main Mesa Police station in downtown Mesa to call for justice, and demand the officers be held accountable for their crimes. Come out to stand up against police violence
WHEN:
Saturday, August 25 at 4 PM
WHERE:
Mesa police department station at 130 North Robson in downtown Mesa. Located between University Dr. and Main St., and just east of Country Club.
People United Against Police Abuse
August 2007

FIGHT POLICE BRUTALITY!
CONFRONT THE MURDEROUS MESA PD!
NO STATE PROTECTION FOR KILLER COPS!
DEMAND JUSTICE FOR THE MADRIGAL FAMILY!
Labels: police brutality, protest